Types of Commercial Refrigerators: Buying Guide
From cooling to freezing, refrigeration is vital in any kitchen. Commercial refrigeration units come in a wide variety of constructions and sizes to store all the essential ingredients you use on a daily basis. So how do you know which is best for your establishment? Our commercial refrigerator buying guide walks you through all the types of units, features, configurations and more.
Types of Commercial Refrigerators
There are a wide variety of refrigeration units that different restaurants and commercial kitchens can use to cool ingredients and beverages. The following are common types of commercial refrigerators available on the market.
Walk-In Units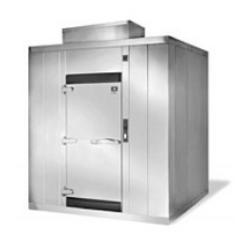 A walk-in unit is basically a refrigerated storage room. With plenty of space, you can store many bulk items outside or at the receiving bay. This helps keep large quantities of product cool while reducing heavy traffic in a commercial kitchen.
Used for – Crates of ingredients, meat, poultry, fish, produce
Best for – Large fine-dining restaurants, hotels, hospitality, grocery chains
Reach-In Units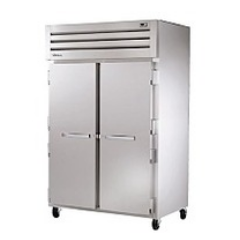 Typically constructed with one, two or three sections, a reach-in refrigerator is used in a wide variety of establishments. Most kitchen use multiple units, including one that stores prepared items for the entire week and another that holds plated and prepared items for the day. By storing it directly in the kitchen, this helps accelerate both prep and service times.
Used for – Prepared or plated meat, poultry, fish, produce, sauces, condiments and garnishes
Best for – Casual and fine-dining restaurants, fast food chains, cafeteria kitchens
Merchandisers 
Available with glass doors, a merchandiser is common in grocery stores and markets. It allows customers to look at the product inside the unit. You can choose a model with multiple sections and a narrow design to help maximize aisle space.
Used for – Packaged foods and beverages
Best for – Grocery stores, convenient stores, liquor stores, grab-and-go markets
Display Cases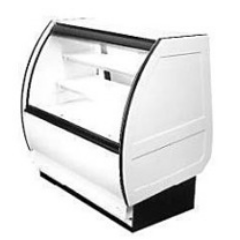 Like a merchandiser, a display case lets customers view items as they cool. Bakery models are used to hold everything from perishable pastries to cakes, while deli options typically cool down meats and cheese.
Used for – Pastries, cakes, meats, cheese, packaged foods, beverages
Best for – Bakeries, delis, grocery stores, convenient stores, liquor stores, grab-and-go markets
Undercounter Units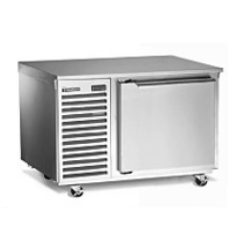 An undercounter refrigerator can be used in the kitchen to store small ingredients for food prep and plating, or it can be placed under the counter at restaurant bar to hold drinks. You can opt for a model with stainless steel doors or glass doors if you'd like the unit to act as a compact merchandiser.
Used for – Packaged snack foods and ingredients, beverages
Best for – Taverns, restaurant bars, cafes, offices, break rooms
Back-Bar Coolers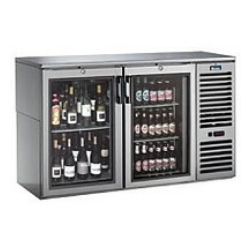 Similar to an undercounter unit, a back-bar cooler is used by bars to chill everything from wine and soda to bottle and cans of beer. Most options have two or three sections, but you can find models with a single section or as many as four sections.
Used for – Wine, beer, soda, bottled water
Best for – Taverns, restaurant bars, cafes, lounges
Prep Tables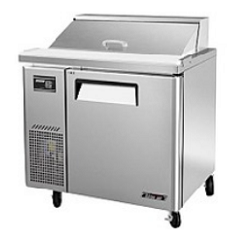 This table unit is placed in prep station, letting you refrigerate prepared ingredients in one place. For example, a pizza place can use the refrigerator to cool all its toppings and conveniently access them while making a pizza. Available with additional cabinet space, a prep table can also be used for sandwiches, salads and other signature dishes.
Used for – Toppings, ingredients, fixings, sauces, dressings
Best for – Places servicing pizza, sandwiches, salads or signature dishes with prepared ingredients
Types of Doors
Believe it or not, commercial refrigerators can have different options when it comes to the doors. Below are types of configurations and constructions to consider.
Standard Configurations
Pass-thru doors – These are located on the front and rear of a reach-in unit, allowing staff members access the refrigerator at simultaneously. This is ideal for positioning each door in the prep and server stations of a kitchen.
Swinging doors – Swinging doors are very similar to a home refrigerator. They swing open, so you can easily load and unload ingredients.
Common Construction
Glass doors – With glass, you can view product consistently. That means staff will not have to consistently open the doors to check what is available.
Stainless steel doors – The solid construction makes provides more insulation, keeping product cooler and the unit more energy efficient.
Refrigeration Maintenance
Regular cleaning and maintenance ensures that your refrigeration unit is staying energy efficient and keeping product cool. Whichever type of commercial refrigerator you choose, make sure to do the following tasks for best operation:
Wipe down the interior – Always wipe down the interior shelves and walls each week with a soft cloth, warm water and manufacturer-approved cleaner. Remember to remove all product and place them in a cooler or another refrigeration unit.
Wipe down the exterior – Each week, use a soft cloth, warm water and manufacturer-approved cleaner to wipe down the exterior. Do not use abrasive or chlorine-based cleaners on stainless steel surfaces.
Clean the condenser coil – The condenser coil can accumulate lots of dust or grease in a commercial kitchen. At least once every three months, you should vacuum and clean the condenser coil.
Check the gaskets – Check the door gaskets at least once a month. Wipe them down with a damp cloth to keep them clean. If you see any wear, splits or cracks, have them replaced.
Check out our commercial refrigeration maintenance guide for complete tasks and tips.